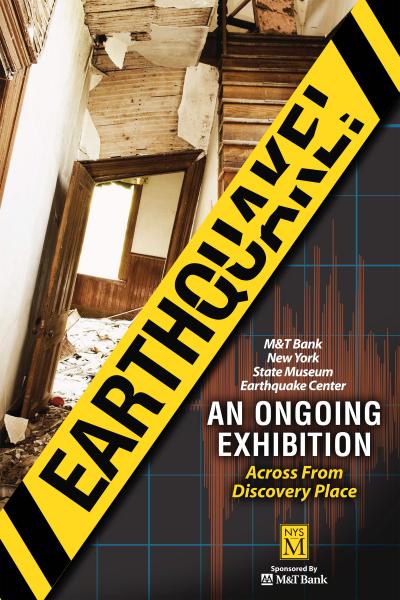 M&T Bank New York State Museum Earthquake Center
Most people think of California when they hear the word earthquake. However, New York State experiences about four small earthquakes each month and occasionally people do feel the movement of the ground. The New York State Museum's earthquake exhibit features real-time display of earthquakes in New York and around the world.
Seismic Activity in New York State
Visitors will be able to learn about seismic hazards in the Empire State and where damaging earthquakes occurred in the past and are likely to occur again. A video screen displays earthquake activity recorded by the Museum's seismic station as it happens. 
Earthquakes throughout the World
Another monitor, continuously updated, shows all of the small and large earthquakes that have occurred in the past week around the entire globe. Records of micro-earthquakes specific to the New York region are posted within a few hours of the event and updated when the earthquakes occur.
Fun Facts: Did you know?!
Hundreds of earthquakes have and continue to occur in and near New York. These are mostly small events located within about nine miles of the surface.
On September 4, 1944, New York endured it's largest earthquake measuring 5.8. Centered about between Massena, New York, and Cornwall, Ontario, Canada, it caused an estimated $2 million damage in the two cities. 
Other notable New York earthquakes include: 1884 New York City, M 5.5; 1929 Attica, M 5.6; 1983 Blue Mountain Lake, M 5.1