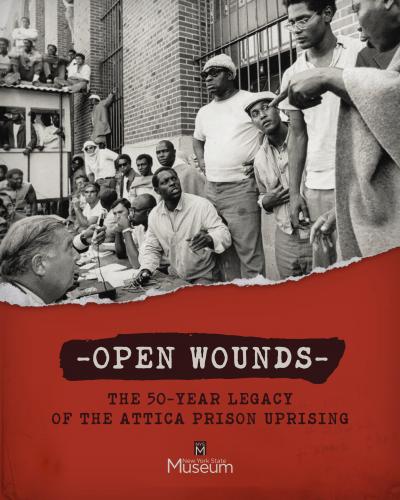 Open Wounds: The Fifty-Year Legacy of the Attica Prison Uprising
September 9, 2021
to
August 1, 2022
This exhibition seeks to present the various viewpoints of the September 1971 Attica prison uprising and its aftermath. It will also discuss the wider impacts of the event and create a dialogue as to why this story is important fifty years later.
The uprising, which left 43 people dead and hundreds wounded, played out against the backdrop of the racially charged late 1960s and early 1970s. The Attica Correctional Facility, located in Wyoming County, opened in 1931 and was originally intended to house incarcerated men from upstate. However, by the 1960s Attica became the overflow facility for New York City-area offenders, which led to racial tensions between the predominantly black prison population and white guards. The racial disparity coupled with overcrowding and inhumane conditions resulted in a tinderbox of explosive tension by the summer of 1971.
Every Prison Is Attica: A Short Documentary Film by David Kuhn
Panel Exhibition Files
Host this Panel Exhibition
The exhibition is intended as a space in which visitors can create dialogues and conversations about the complicated events as they unfolded at Attica in September 1971; the complex social and racial issues that permeated the events that unfolded (both in terms of the individuals involved and the actions of New York State authorities in the retaking and aftermath); and how the legacy of Attica continues to shape politics and policies today.
Is your organization interested in hosting the Open Wounds panel exhibtion? 
No Cost. High resolution files will be sent for venues to print and mount panels at own expense.
Funding: Small organizations may apply for a Quick Grant from Humanities New York to off-set funding costs for printing the exhibition panels: https://humanitiesny.org/our-work/quick-grants/.  Email grants@humanitiesny.org
Size: Seven panels total, each 32 in wide x 40 in high. 25-30 linear feet (variable)
Available: Exhibition panel files are ready to send via email
Contact: Office of New York State History, nysmhistory@nysed.gov