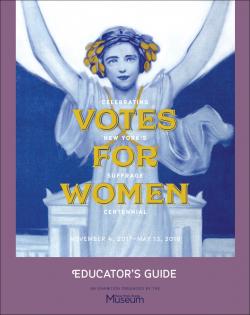 Educators using this guide will know that students depart with a basic understanding of how suffragists and advocates fought for women's rights in New York, and how these efforts and techniques impacted national women's rights movements. Students will also gain a sense of empowerment with techniques and strategies that they can use to voice their concerns and advocate for their own causes. Each lesson focuses on using primary resources, including artwork, archival material, and historical artifacts as evidence for students to use to make their own conclusions.
Download: Votes for Women Educator's Guide and Graphic Organizers (PDF)
Traveling Panel Exhibition
The New York State Museum created a six-panel traveling exhibition based on the larger Votes for Women exhibition that can be displayed at smaller venues around New York State.  For information on how to host this exhibition in your local library, museum, or historical society, please contact Jennifer Lemak at jennifer.lemak@nysed.gov
Suffrage Comic by Emily Ree
In this comic, four fictional New York girls explore four events in history when New York women fought for their rights: the 1848 Seneca Falls convention, the 1915 New York State suffrage campaign, the 1977 New York State Women's Meeting, and the 2016 Women's March. These stories were written to inspire empathy and help students understand what it might have been like to witness and take part in these events.
Lenders to the Exhibition
Votes for Women will feature collections from the New York State Museum, New York State Library, and the New York State Archives as well as artifacts from historical institutions and private collections across the state.
Albany Institute of History & Art
Alethea Mouzakes
Angela Panzer
Bellevue Alumnae Center for Nursing History Archive,
     Center for Nursing at the Foundation 
     of New York State Nurses
Binghamton University
Bryn Mawr College
Buffalo History Museum
Chautauqua County Historical Society, McClurg Museum
Christine Heller
City of Watervliet
Clinton Historical Society
Coline Jenkins, Elizabeth Cady Stanton Family
Coreen Hallenbeck
Cornell University—PJ Mode Collection of
     Persuasive Cartography
Cortland County Historical Society
Diana Mara Henry Photography
Eleanor Roosevelt National Historic Site, Val-Kill
Elizabeth Cady Stanton Trust
Elizabeth Meaders
Fenimore Art Museum Research Library
FDR Presidential Library and Museum
Geneva Historical Society
Howland Stone Store Museum
Keene Valley Library
Kelley Christine Feranec
Kheel Center, Cornell University
Kristen Felsen
Laura Bierman
Lauren Mouzakes
League of Women Voters of New York State
Library of Congress
Linda Underwood Melissa Bochenski
Marissa Marvelli
Marguerite Kearns
Matilda Joslyn Gage Foundation
Ms. magazine
Museum of the City of New York
National Museum of American History, Smithsonian
National Susan B. Anthony Museum & House
National Women's Hall of Fame 
New York Public Library
New York State Archives 
New York State Department of Labor
New York State Library 
New York State Office of Parks, Recreation, and
     Historic Preservation:
Clermont State Historic Site and Lorenzo State
     Historic Site 
Olivia Brazee
Onondaga Historical Association
Pam Elam
Pamela Skripak
Rochester City Historian
Rochester Historical Society
Ronnie Lapinsky Sax 
Scott Reinert
Seneca Falls Historical Society
Sophia Smith Collection, Smith College
Sue Lean
Susan Etu
The Jee Family
University of Rochester, Department of Rare Books
    and Special Collections
Valerie Medeiros
Women's Rights National Historic Park